Welcome to Le Parc de Vaux campsite
The Parc de Vaux campsite open from April 2 to November 2, offers 3.5 hectares along the river, at the gateway to the Normandy Maine Regional Park in Mayenne. The ground is composed of 104 sites raised dedicated to the amateurs of traditional camping but you can also rent one of our canvas bungalows, mobile homes or chalets comfort. On site, you will enjoy the many facilities of the leisure center and the proximity of Lake Haute Mayenne (123 hectares) which is home to a fauna and flora of great wealth. Rich in heritage, you will be seduced by this authentic region that has not finished surprising you! You can find your route by clicking on the 1st link on the right.
Our opening hours
We welcome you every day from:
Mid-season / Monday to Saturday from 9am to 12pm and from 14h to 18h. High season / Monday to Saturday from 9:00 to 12:30 and from 14:00 to 18:30. Sunday from 10h to 12h30 and from 14h to 17h.
Come to the campsite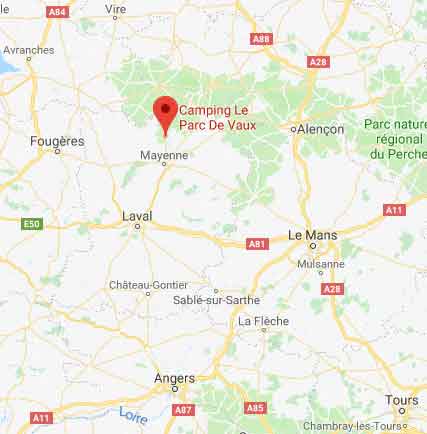 Contact us
For any request for information or reservations. You can reach us here:
Téléphone: +33(0)2 43 04 90 25
Jean-Marie and Véronique Gamain welcome you: